Home Intellectual Property Trade Mark

-


Trade Mark


We help our client to register their trade mark in Malaysia & worldwide.



A Trade Mark is a sign which distinguishes the goods and services of one trader from those of another.
A mark includes words, logos, pictures, names, letters, numbers or a combination of these. A trade mark is used as a marketing tool to enable customers in recognizing the product of a particular trader.
Trade marks registration in Malaysia provides for:
Exclusive Rights - Registered trade marks owners have exclusive right to use their marks in trading. They also have the rights to take legal action for infringement under the Trade Mark Law against others who use their marks without consent. They can either take civil action or lodge complaints to Enforcement Division for appropriate actions under the Trade Description Act 1972.

Legal Evidence - Registration certificate issued by Registrar Office is a prima facie evidence of trade mark ownership. A certificate of registration serves as an important document to establish the ownership of goods exported to other countries.

What happens if the trade mark is not registered in an action for infringement?
The owner cannot commence any action under the provisions of the Trade Marks Act 1976. However, actions may be instituted under the common law principals whereby the trade mark owner has a duty to convince the court that the infringing act had mislead the public and the infringing goods or services may be mistaken as his goods or services. This action is very contentious and costly.
Does Malaysian registration for trade mark give protection abroad?
No, trade mark protection is territorial in nature.
How does one secure protection abroad?
An applicant may file trade mark application separately in each intended country. However, a Malaysian application may be used as a basis for Priority Date Claim in the countries which are party to the Paris Convention or World Intellectual Property Organization (WIPO).

For your information, we are the Registered Trade Mark Agent and provide trade mark serach and registration services in Malaysia & worldwide.
Are all trade marks registrable?
No, in order for a Trade Mark to be registrable it must be:
An invented word/words; Name of a person/firm/company represented in a specific or particular manner; Legible applicant's signature; Words with no direct reference to goods or services, or geographical significance; Any distinctive mark such as logo, picture, symbol etc.; Not deceptive, cause confusion, contrary to law, scandalous or offensive; Not identical or similar to earlier registered/applied trade marks; and Not identical or similar to well-known trade marks.
A trade mark is not registrable if it contains words or representations prohibited under Trade Marks Act 1976 and Trade Mark Regulation 1997.

Back
Click here to contact us!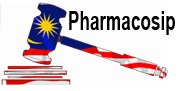 PIC is a leading regulatory affair and intellectual property firm in Malaysia.

PIC is formed by a unique combination of scientific and legally qualified professional with the aim to offer scientific regulatory affairs and intellectual property advice, management and protection services. It is further backed by a team of committed, competent and experienced personnel who support the operation of the firm.
To know more about Trade Mark registration,
Call : (+603) 7972 3579 or
(+6016) 335 4842
Email : pharmacosip@yahoo.com

Pharmacosip Consultancy
Address
Villa PIC, No. 82B, Jalan Awan Jawa, 58200 Taman Yarl, Kuala Lumpur, Malaysia.
GPS Location
3°04'21.4"N 101°40'05.9"E / 3.072611, 101.668306