Home Intellectual Property Industrial Design

-


Industrial Design



We help our client to register their industrial design in Malaysia & worldwide.

An industrial design is the overall appearance of an article or a product. The design may consist of three dimension features such as the shape and configuration of an article, or two dimension features, such as pattern and ornamentation. The design features must be applied to an article by an industrial process or means of which, the features in the finished article gives it a unique appearance.
What is non-registrable design?
(i) It does not have a clear aesthetic appearance.
(ii) It is a method or principle of construction.
(iii) Designs features dictated solely by function.
(iv) Integral parts which consist features that dependent upon the appearance of another article.
(v) Differs only in immaterial details or in features commonly used in the relevant trade (trade variants). (vi) The designs those are contrary to public order or morality.
When an application should be filed?
As claims are based on rules of 'first to file', filing of an industrial design should be made at the earliest possible time or before an article is disclosed to the public. Prior disclosure will eliminate the novelty of the design. Extreme care should be exercised to ensure secrecy of the design.
What is the duration for protection?
A registered industrial design is given an initial protection period of 5 years from the date of filing and is extendable for a further two consecutive terms of 5 years each. The maximum protection period is 15 years.
Does one have to register an industrial design to get a protection?
Under industrial designs law, there is no protection without registration. An industrial design need to be registered to be eligible for protection. The owner of a registered industrial design has the exclusive rights over his industrial design.

For your information, we are the Registered Industrial Design Agent and provide industrial design serach and registration services in Malaysia & worldwide.

Back
Click here to contact us!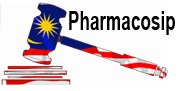 PIC is a leading regulatory affair and intellectual property firm in Malaysia.

PIC is formed by a unique combination of scientific and legally qualified professional with the aim to offer scientific regulatory affairs and intellectual property advice, management and protection services. It is further backed by a team of committed, competent and experienced personnel who support the operation of the firm.
To know more about Industrial Design registration,
Call : (+603) 7972 3579 or
(+6016) 335 4842
Email : pharmacosip@yahoo.com

Pharmacosip Consultancy
Address
Villa PIC, No. 82B, Jalan Awan Jawa, 58200 Taman Yarl, Kuala Lumpur, Malaysia.
GPS Location
3°04'21.4"N 101°40'05.9"E / 3.072611, 101.668306