Home Intellectual Property Geographical Indication

-


Geographical Indication


We help our client to register their Geographical Indication in Malaysia & worldwide.

What is Geographical Indication?
Geographical Indications Act 2000 defines geographical indication as an indication which identifies any goods as originating in a country or territory, or a region or locality in that country or territory, where a given quality, reputation or other characteristic of the goods is essentially attributable to their geographical origin.

Does Malaysia have product that qualifies to be registered under Geographical Indications Act 2000?
Malaysia has a number of goods that can be registered as geographical indications. These goods have been commercially exploited at local and international market for example 'Sarawak Pepper', which is a pepper-based product produce in Sarawak. This pepper has gained reputation and recognition at international level due to the quality of the pepper. In addition, 'Sabah Tea', 'Tenom Coffee', 'Borneo Virgin Coconut Oil' and 'Sabah Seaweed' are the registered geographical indication goods in Malaysia. These four geographical indications are from Sabah.

Does geographical indication applicable only to an agricultural product?
Geographical indication is not limited to agricultural product. It can also be used on natural product such as Langkawi Gamat and any product of handicraft like Terengganu Songket, Kelantan Batek and food products such as Papar Belacan and Kelantan Budu.

Does registration of geographical indication compulsory?
Registration of geographical indication is not compulsory. However, registration of geographical indication is encouraged to protect the interest of producer and consumer. The registered proprietor of geographical indication has the exclusive rights to exploit the geographical indication and gains recognition at domestic and international level.
(v) Differs only in immaterial details or in features commonly used in the relevant trade (trade variants). (vi) The designs those are contrary to public order or morality.

Back
Click here to contact us!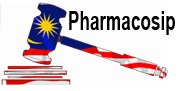 PIC is a leading regulatory affair and intellectual property firm in Malaysia.

PIC is formed by a unique combination of scientific and legally qualified professional with the aim to offer scientific regulatory affairs and intellectual property advice, management and protection services. It is further backed by a team of committed, competent and experienced personnel who support the operation of the firm.
To know more about Geographical Indication registration,
Call : (+603) 8068 3579 or
(+6016) 335 4842
Email : pharmacosip@yahoo.com

Pharmacosip Consultancy
Selangor Office
55-3, Jalan Puteri 2/1, Bandar Puteri, 47100 Puchong, Selangor, Malaysia.
Penang Office
88-R-2, Jalan Tun Dr. Awang, 11900 Bayan Lepas, Penang, Malaysia.