Home Intellectual Property Copyright

-


Copyright


We help our client to management & protection their Copyright in Malaysia & worldwide.

Copyright is the exclusive right given by law for a determinable time period to the author of the work to control the use of the work in Malaysia.

What works get copyright protection?
The following works are protected:-
(i) Literary works;
(ii) Musical works;
(iii) Artistic works;
(iv) Films;
(v) Sounds recordings;
(vi) Broadcasts; and
(vii) Derivative works.

What are the qualifications for protection of copyright?
• Sufficient effort has been expanded to make the work original in character;
• The work has been written down, recorded or otherwise reduced into material form;
• The author is a qualified person; and
• The work is made in Malaysia or the work is first published in Malaysia.

Can copyright be transferred?
Copyright is transferable by assignment, testamentary disposition and by operation of law.

What is the duration for copyright protection?
• For literary, music and artistic works, copyright subsist during the life of the author and 50 years after the death;
• For sounds recording, films and broadcasts, copyright subsist 50 years from the year following the publication of the work; and
• For published edition, copyright subsist 50 years from the year following the year of edition was first published.

Back
Click here to contact us!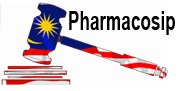 PIC is a leading regulatory affair and intellectual property firm in Malaysia.

PIC is formed by a unique combination of scientific and legally qualified professional with the aim to offer scientific regulatory affairs and intellectual property advice, management and protection services. It is further backed by a team of committed, competent and experienced personnel who support the operation of the firm.
To know more about Copyright protection,
Call : (+603) 7972 3579 or
(+6016) 335 4842
Email : pharmacosip@yahoo.com

Pharmacosip Consultancy
Address
Villa PIC, No. 82B, Jalan Awan Jawa, 58200 Taman Yarl, Kuala Lumpur, Malaysia.
GPS Location
3°04'21.4"N 101°40'05.9"E / 3.072611, 101.668306